As I write this I am sitting in the AdventureMobile parked in Apgar Campground in Glacier National Park. Over the last month or so I've spent 8 days in Grand Teton National Park, 3 weeks exploring Yellowstone, and now Glacier.
I know there are people who plan their trips a year in advance and make reservations for every stop. I don't do that. My plans change frequently. At one point I was planning to work this summer and had a job lined up, then changed my mind and decided to spend the summer traveling with the WINs. Then that plan got delayed when I was stuck in Livingston dealing with some medical stuff. Once I finally caught up with the WINs in Missouri, I was with them for less than a week when I left to head up to Forest City, Iowa to get some things fixed at the Winnebago Factory Service Center.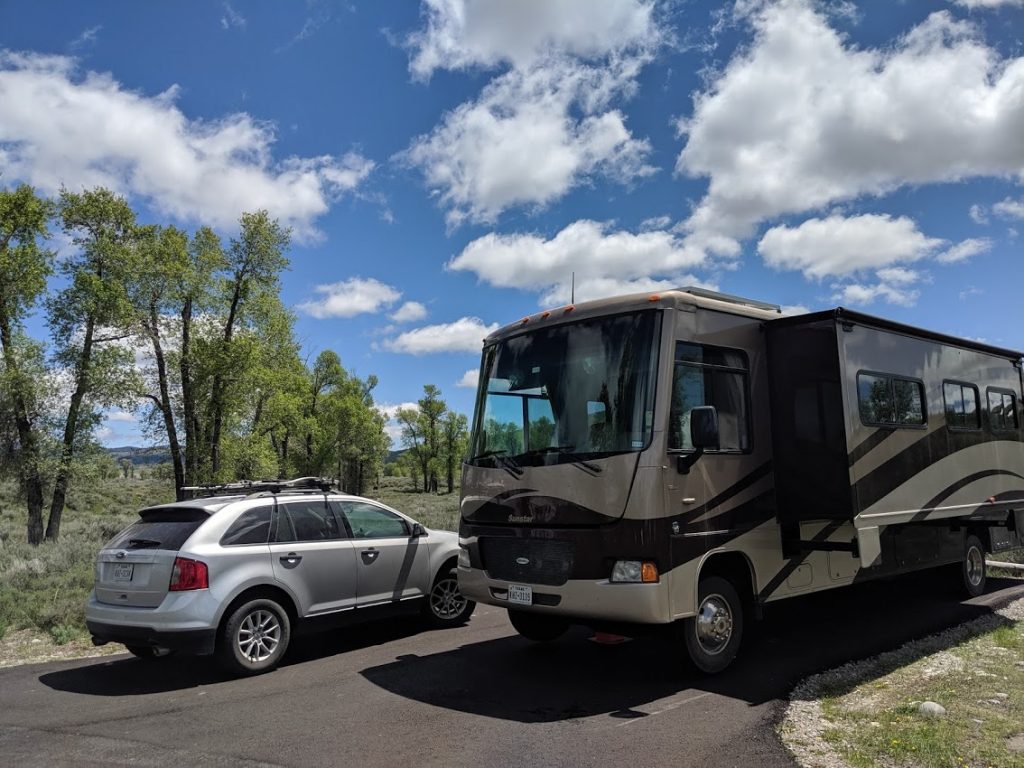 I finally got back with the WINs in South Dakota and stayed with them until Grand Teton. It wasn't until Grand Teton that I realized Yellowstone is just up the road and decided to go there.
So, how do you get a site in one of the most iconic and heavily visited National Parks, in the summer, without a reservation?
The first thing to know is that most National Park campgrounds do not take reservations, they are first come, first served. For example, there are 13 campgrounds in Glacier National Park. Two of those campgrounds are 100% reservable, and in one other, half of the sites can be reserved. And those reservable sites are solidly booked right through the summer season. You could go online and get a night here or there, but that's about it.
It is also important to know that NPS campgrounds are not RV parks! The typical National Park campground was designed for tenters. Sites are small, and typically there are no hookups. There may or may not be a dump station. Some do not allow RVs at all. Others only allow RVs up to a certain length; say 25 feet. Still others allow RVs but have only a limited number of sites which can accommodate larger rigs. So you have to do your research. Check the NPS website for information about the campgrounds in the park you want to visit. I also check campgroundreviews.com, as people often list specific sites and the size of their rig.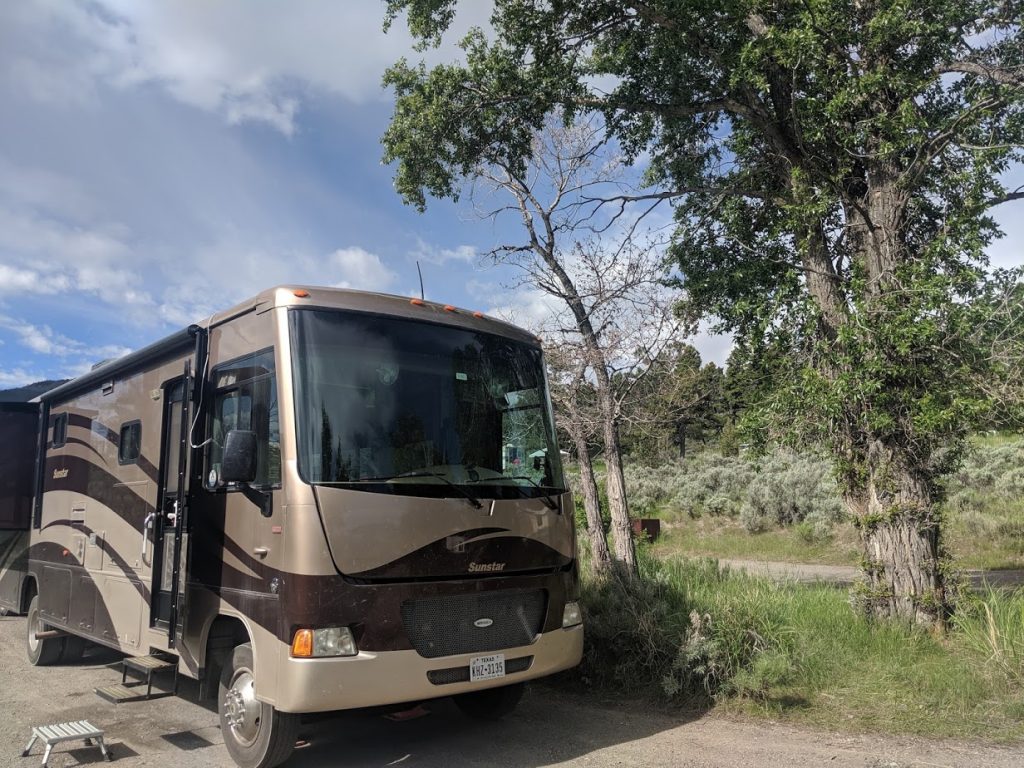 The campground I am in now, Apgar Campground, has 194 sites but only 25 that can accommodate RVs "up to 40 feet." And on some of those 25 sites, it will be next to impossible to get level.
With all those imitations, you might wonder why one would even bother with NPS campgrounds. The most important reason to me is that they put you living inside the park. You don't have to go through the hassle of driving to the park each day and waiting in line at the entrance gate. You also get to enjoy the evening ranger programs, which are a really wonderful tradition in the National Parks. And finally, NPS campgrounds are not RV parks! I'm not a big fan of RV parks. I don't enjoy being packed in like sardines, or sitting outside looking at my neighbors sewer hose. Oh, and one more: NPS campgrounds are a bargain! Apgar Campground costs $20 per night. I think I can remember paying fees ranging from $14 to about $23 per night.
So how do you get a site in one of these perpetually full National Park campgrounds? There are 2 cardinal rules: 1) Don't arrive on a Friday or Saturday, and 2) Arrive early!
I left Yellowstone on Monday and drove north towards Glacier, arriving in the town of Columbia Falls mid-afternoon. I parked in the parking lot at the Super 1 Foods store, which allows RVs to park overnight. While there I restocked the pantry and settled in for the night.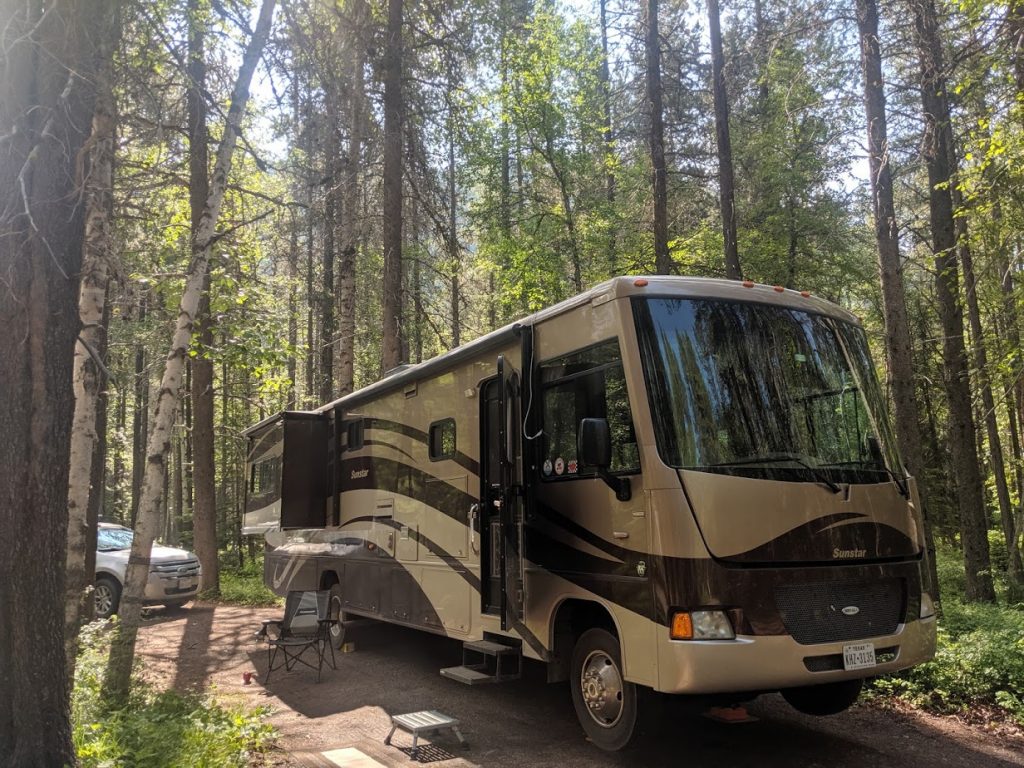 I was up at 5:30 Tuesday morning, and by 6:30 I had unhooked the car and, leaving the motorhome parked there, was driving to Glacier. By 7:15 I was in Apgar Campground, cruising the loops looking for an empty site that I could maneuver the AdventureMobile into. It took a few laps of each of the loops, but by 8 o'clock I had found a site someone had just pulled out of that would work. I set up a couple of folding chairs I had brought with me to mark the site as taken, and filled out the self-registration form, paid the nightly fee, and clipped the receipt to the campsite post. It was a lot easier driving around and around the campground with just the car rather than my personal little road train of motorhome plus car.
Site secured, I drove back into town and hooked the car to the motorhome. While at the campground I had noticed that the dump station was quite tight, and also very busy. So I paid $5 to dump my tanks at the Conoco station in town, then drove back into the park to the campground. There was a long traffic delay due to chip sealing work going on, but since I had a site secured I could relax and not worry. Well before noon I was all set up in my site and sitting outside relaxing.