I recently returned from a trip to Iloilo City in the Philippines. I know there are people in the world who get to choose their travel itinerary based on convenience while ignoring cost. I'm not one of those people. I chose my travel itinerary based on which tickets were cheapest. That being so, our itinerary consisted of a 10 hour flight from Boston to Istanbul (Boston because a girlfriend from Boston traveled with me), a 10 1/2 hour layover in Istanbul, a 12 hour flight from there to Manila, an 18 hour layover in Manila, then a 1 hour flight to Iloilo City. If you add that all up, that's 50-something hours.
I had heard horror stories of Manila Airport. Basically, it's an old, not well organized airport that is operating far above its designed capacity. There are 4 terminals, none of which are connected to any of the others. International flights operate into and out of Terminal 3. Philippine Airlines operates flights between Manila and Iloilo from Terminal 2.
On the way out we had that 18-hour overnight layover. Since we arrived in Terminal 3, it was super easy to collect our bags, head up to level 3 of the terminal, and follow the signs to Runway Manila, which is an enclosed pedestrian walkway over the highway that deposits you in the Newport area, which is a district of hotels, restaurants, and shopping. And right as you exit the elevator on the city side of the pedestrian bridge is the Belmont Hotel, where we had a reservation for the night.
The next day, however, we had to fly out of Terminal 2. That being so, I asked the concierge whether taking a taxi was the best way to get there. He said "Yes, but they will rip you off. I can order a Grab for you."
Grab is the Philippine version of Uber. You can get rides, have food delivered, etc. If I remember correctly, the 20-minute Grab ride to Terminal 2 cost something like 270 PHP, or less than $5 USD.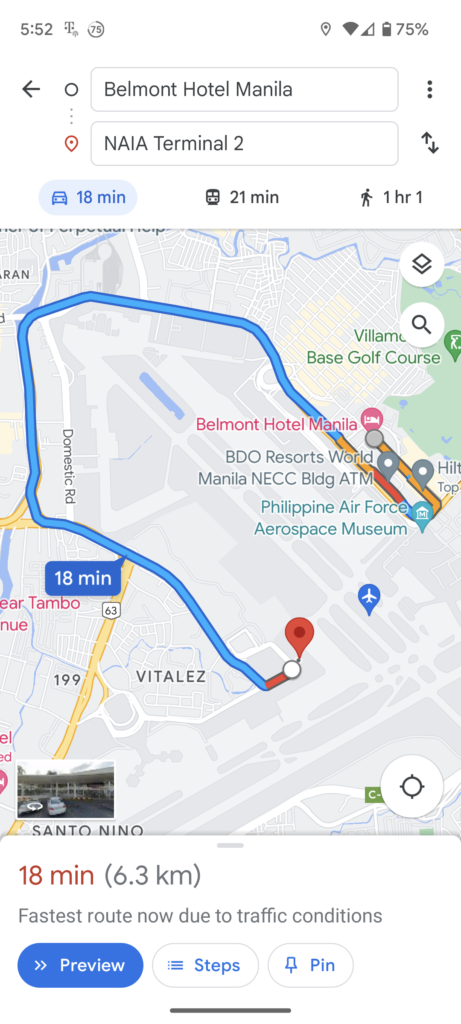 We were at the airport plenty early. The lines were long, and the gates were pretty chaotic, including a last-minute gate change, but we had plenty of time to deal with it all. Our flight to Iloilo was delayed, but that was our final destination so we had no connection issues to worry about.
On the way back, it was quite a different story.
We had booked an early afternoon flight from Iloilo to Manila, then a 5+ hour layover in Manila before our flight to Istanbul. That 5 hours should have been plenty of time to get from Terminal 2 to Terminal 3, check in, go through Immigration, go through security, and get to our gate.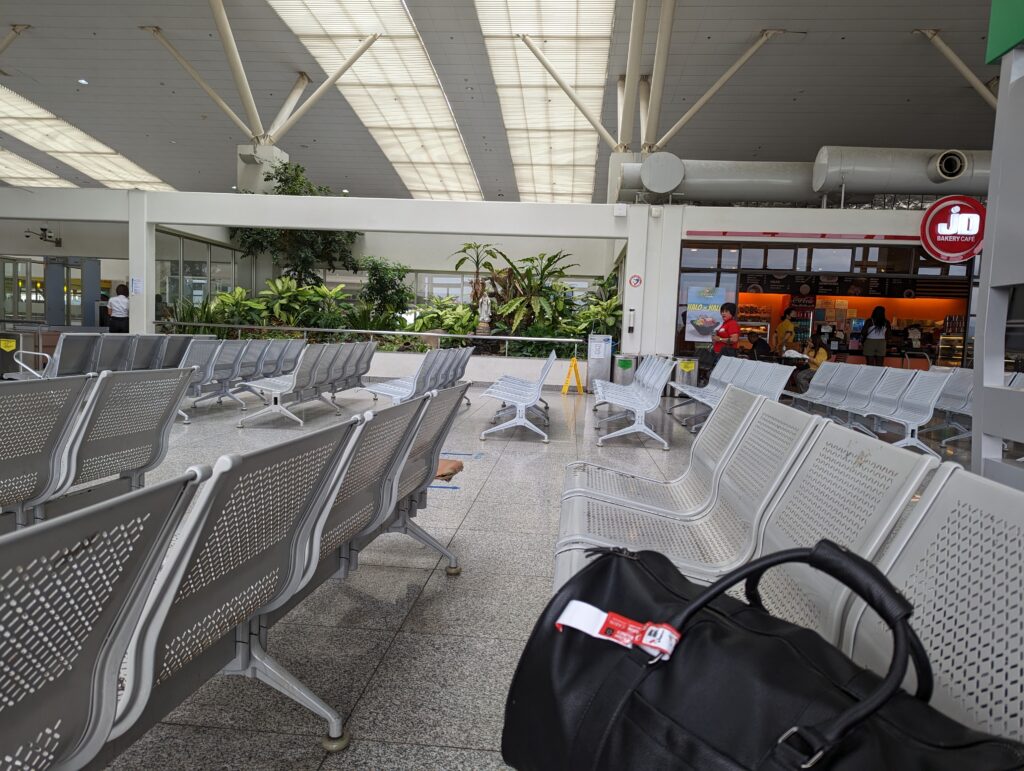 Iloilo Airport was so quiet and peaceful
Unfortunately, Philippine Airlines being Philippine Airlines, at the time we were supposed to be taking off from Iloilo, our plane was still in Manila. The end result is that we were over 2 hours late arriving in Manila. Then we had to wait an insanely long time for our checked bags to come out. By now, we knew we were in trouble.
My plan had been to order a Grab to take us to Terminal 3, but now our priority had become finding the fastest possible way to get there. That being so, we asked one of the airport personnel where we could get a taxi. He pointed to the door and said "Bay 11".
As you approach a taxi stand, you'll be approached by people offering you rides. We told the woman who approached us that we needed to get to Terminal 3, and we were very late. When asked how much, she answered "1150". Now, we knew this ride should be about 400 pesos. Her explanation was that it was 700 for the ride, and 450 for the toll for the flyway to Terminal 3.
Okay, we knew we were being taken advantage of. But at the end of the day, 1150PHP is about $20USD. Let's just get going. And our driver did get us there fast. He used the tollway. As we approached the departure area there was a long line of taxis and people trying to enter the terminal, and he said he would drop us at Arrivals and tell us how to get up to Departures. Sure enough, he pulled up to the curb, pointed out which door we should enter through, and pointed out the escalator inside that would take us up to Departures. Off we went.
Because of the way we entered, we came into the check-in area on the opposite side from most traffic. We spotted the Turkish Airways desks, saw the long check-in line, sighed, and got in line. Ha! Naive us. We were immediately approached by a man from Turkish Airways who pointed to his colleague down the way and told us to go see her to get in line. We did that, and the woman proceeded to point to a long line snaking half the length of the terminal, and told us we had to go to the back of this line. So, basically, there was a line to get to the actual check-in line. Sigh…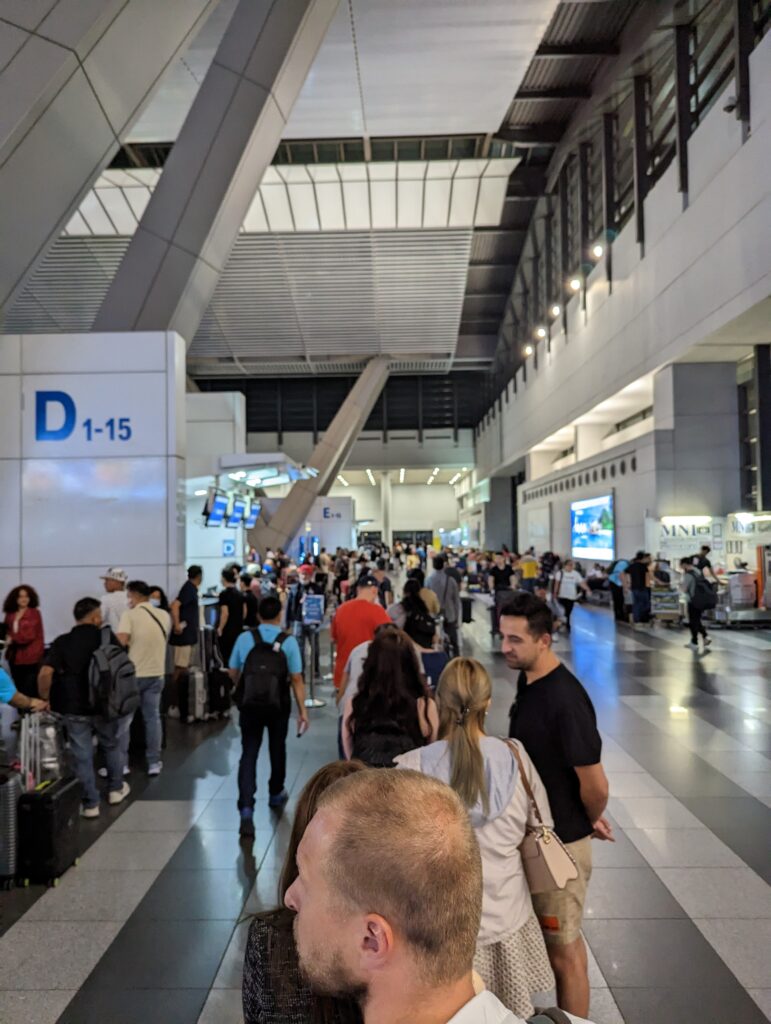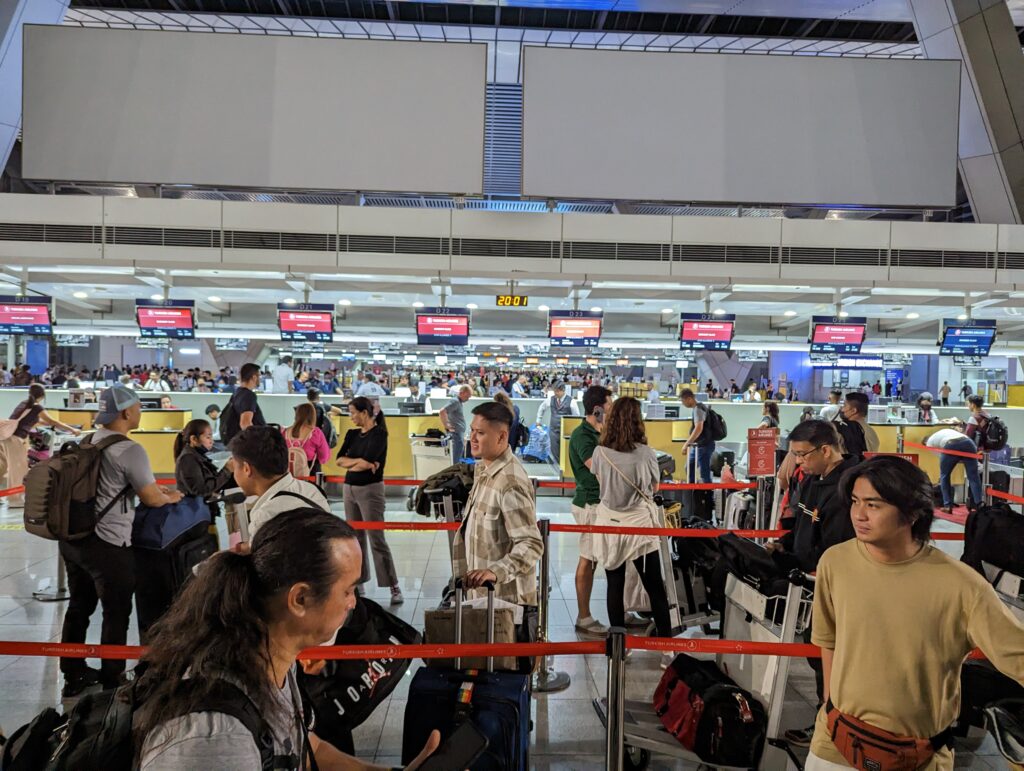 We did as we were told, and after an interminable length of time we were finally checked in. Then we had to find the Immigration line, which wasn't all that easy. Things are not signed well in the Manila Airport. Once you get there, there is a big sign, but there aren't many signs pointing out the way there. But we got there, and thank goodness we were flying on foreign passports. The line for Philippine passport holders was incredible. We probably only waited 10 or 15 minutes, but it felt like forever, as our plane had started boarding while we were still back checking in.
Finally through Immigration, now we were off to security. Another line. More watching time whizz by at lightning speed. Through security, and off on a dash to our gate. Duck under the rope with the sign saying Final Boarding, present our passports and boarding passes, and finally, we are on the plane!
I hope I never get to repeat that experience.