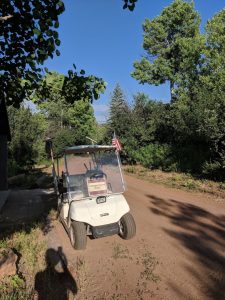 I am about halfway through my very first workamping job, and I thought I'd share a few random thoughts on the experience. I am working for a private company that operates Forest Service campgrounds in the White River National Forest, among other places. I work as a camphost for North Fork Campground, and as an assistant to the guy responsible for maintenance at about a dozen campgrounds in the area.
When I took this job there were a few things that concerned me:
After being footloose and fancy free for 6 months, never spending more than 10 days in any one place, would I go stir crazy being in one place for 4 months?
Well, so far I'm loving being here. It's a gorgeous corner of the world, and there is a lot to explore. I've been doing a fair bit of hiking on my days off, and also trying to teach myself to mountain bike (without much success, I might add). I'll be ready to leave and head east when my job ends in September, but I'm not chomping at the bit to get moving.
Just how gross would it be cleaning bathrooms?Not that gross, I'm happy to report. For one thing, this campground isn't all that heavily used during the week. But mostly it's because I have all the tools I need to clean without getting too "up close and personal." I regularly get compliments from campers on how clean the restrooms are. Considering that these are what the Forest Service refers to as "vault toilets," and that there is no running water, that's quite a compliment.
How much of my time would be spent dealing with jerks?As it turns out, nearly none. I've not had to deal with any real jerks that would necessitate calling in law enforcement. The huge majority of campers are wonderful to deal with, and I've had some really fun and interesting conversations with some of them. There is the occasional person who tries to get out of paying for their site or who resents being asked for the information I need to register them, but they were all handled without any harsh words being exchanged.