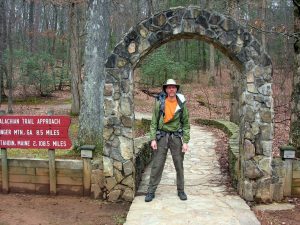 Last night I was browsing NetFlix (love my satellite internet!) and came across Karl Meltzer: Made to be Broken; a documentary about Karl's 2016 run that broke the then record fastest time to complete the Appalachian Trail. I enjoyed this on so many levels.
First was just seeing spots along the AT and recognizing them from my own thru-hike. It's amazing how many places I recognized, and even thought to myself "I know exactly where they're standing to get that shot."
Now my thru-hike, which took 6 months and 9 days, was nothing like Karl's run, which took 45 days, 22 hours, and 38 minutes! And Karl went southbound (SOBO) while I went northbound (NOBO).
Yet there are many similarities. Distance running and long distance hiking are both endurance sports. The key to completing what you set out to do is to not quit. I know that sounds blisteringly obvious, but when you're in the middle of it it can be a hard thing to hold on to. Every year a couple thousand hikers leave Springer Mountain in Georgia bound for Mount Katahdin in Maine, and in a good year about 25% manage to finish. Heck, about 10% quit at Neels Gap, the first road crossing 30.5 miles north of Springer Mountain.
So what does all this mean? Quite literally, I don't want to be a quitter. Fortunately as I've gotten older one of the biggest life lessons I've learned is that life is cycles. Sometimes you're up; sometimes you're down. Sometimes it's easy and sometimes it's hard. But however bad today or this week or this month may be, if you just keep going eventually things will change and you'll arrive somewhere. And sometimes that somewhere is an amazing surprise.
So far this wandering RV life has offered me some amazing experiences. It isn't always easy, but nothing has yet made me want to quit.